Employer Services Network
Save time and maximise your training budget with our employer services network
Enjoy the training privileges, cost savings and convenience of our Employer Services Network with the National Skills Academy for Food & Drink
Importantly, the Employer Services Network isn't just about training. It's also about shaping and driving the skills system delivered on behalf of the industry.
Employer Services Network covers a wide range of valuable training privileges and cost savings, as well as a fuss-free access to the highest quality food specific training from Industry Approved Training providers. 
As we are dedicated to the industry, you can be assured we'll offer all the right expertise in uncovering the skill opportunities that will boost company growth.
The Employer Services Network makes life simple. You pay a single subscription each year and can instantly start taking advantage of all Membership privileges.
You'll be joining a unique industry community where you can enjoy a stronger relationship with both the Academy and other industry businesses on strategic skills issues.
Free consultancy days – adding real value
The Academy's team of in-house skills consultants are hand-picked for their unrivalled food and drink industry knowledge, experience and specialist expertise across a vast range of skills challenges — which is why some of the country's best-known companies turn to us for trusted advice.
The expertise of our consultants spans everything from supporting skills strategies across every facet of food and drink manufacturing and processing to Learning & Development evaluation, training budget maximisation, apprenticeship implementation and qualifications advice. Whatever the issue, the Academy has the expertise.
Tasty Careers – Helping you reach out to your next generation of talent
Tasty Careers is designed as a game changer – bringing together industry career information and live industry vacancies all in one place and making them instantly accessible to the smartphone generation.
Through the Tasty Careers industry recruitment programme and website www.tastycareers.org.uk, we are the first part of call for young people seeking industry job opportunities and the very best study choices to help them into industry careers.
The website offers Members of the Employer Services Network the chance to advertise entry-level positions, graduate schemes, Apprenticeships and internships free of charge – with the added bonus of sustained social media promotion on Facebook, Twitter and YouTube.
As a Member, you are offered the opportunity to be part of a National campaign to attract young talent into the Food & Drink industry. You are also entitled to send two of your young role model high-flyers on Tasty Careers Ambassador training each year – with many Members using the opportunity as a rewarding personal development platform for young employees working a variety of job roles.
The Academy's course equips Ambassadors with all the knowledge and skills they need to be confident in presenting career opportunities in your business, and the industry as a whole, to the next generation of prospective recruits. Schools request visits via the Tasty Careers website and you retain the control of where and when to accept.
Free Level 2 Food Safety Courses
The safety of food products remains the industry's number one priority. Retaining consumer confidence and trust requires diligence and a workforce with the knowledge and commitment to follow necessary rules, systems and processes to the letter.
The reputational and commercial impact of food safety failures can be huge – but Membership of the National Skills Academy for Food & Drink's Employer Services Network can make an important contribution to risk reduction.
All Members are entitled to free online Level 2 Food Safety courses for ALL employees.
Our Food Safety course takes away from the headache of compliance.
You gain a full record of who has completed what learning and when – saving time and admin costs and providing you with auditable evidence of employee participation at individual and workforce level,
As it's web-based, Food Safety learning can then take place anytime, anyplace.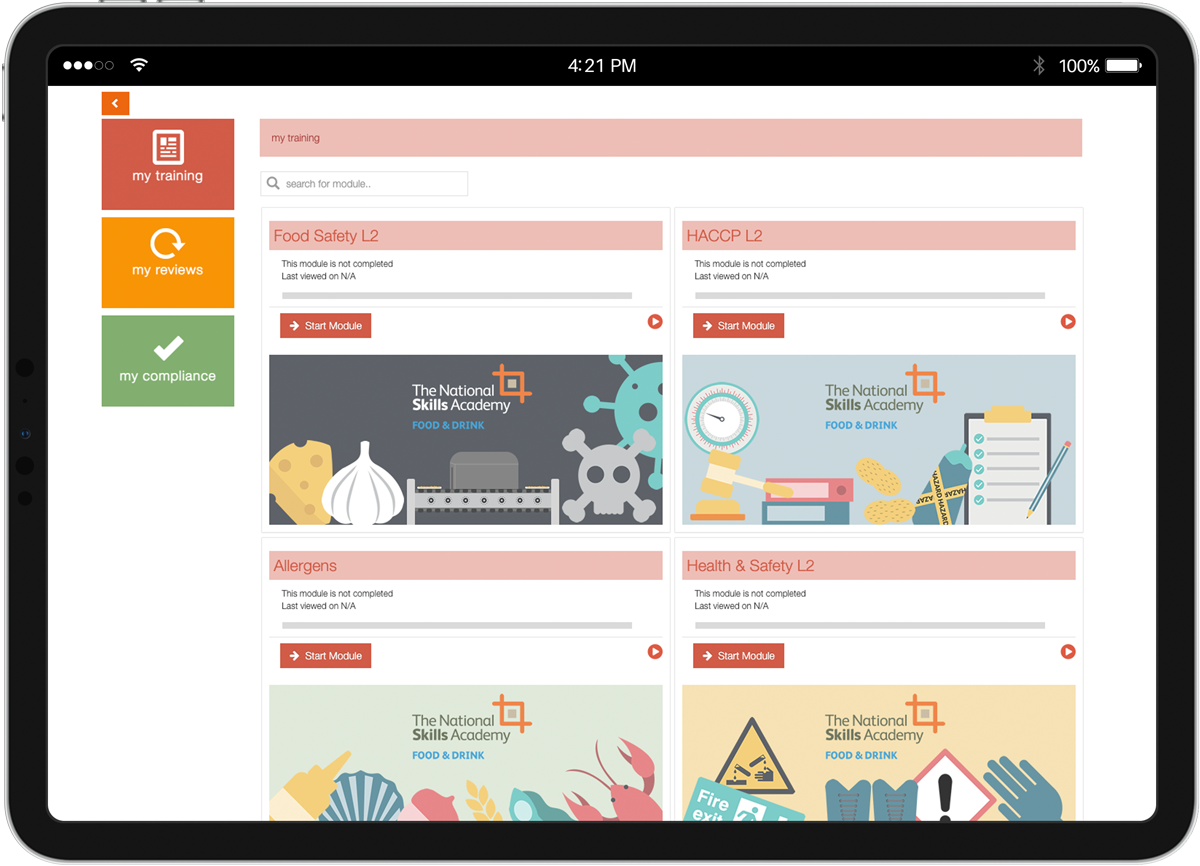 As well as our Food Safety course, we've selected the best e-learning available for our Online Academy – content is totally devoted to the food and drink industry and all in one place.
The Academy is committed to bringing down the costs of training while ensuring your staff get the best learning experience – and Members benefit from an across-the-board discount of 20% on all courses over and above the free access to Food Safety learning with additional discounts for bulk purchase.
If you'd like to take things further and tailor online learning to your specific operation, we can support you. As a member, you can use our proven Online Academy platform as a base for your own content and reflection your own branding. Any additional cost is dictated only by the level of modification required. All you need to do is ask.
Course topics include:
Level 2 Food Safety (developed by the National Skills Academy for Food & Drink)

Personal Development

Basic I.T

Office I.T
Ready to grow your business with us?
Get in touch to discuss your membership