Industry Approved Provider: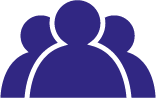 Supporting Employer Partners
Lifetime Training is an award-winning training provider with a wide-ranging support network and infrastructure. Our founding principle was to support individuals and businesses to perform better through the delivery of outstanding training programmes. This philosophy continues to be central to our business and has led to us becoming one of the UK's leading training providers.
We have spent the past two and a half decades honing our experience in designing and implementing client-centred programmes for the food and drink industry. We offer an end-to-end solution, beginning with recruitment and finishing with end-point assessment (EPA).
We are continuously investing in innovative learning technologies and deliver tailored, real-time reporting. Our specialist delivery team and divisions optimise the success of our clients' training programmes.
Opportunities for our learners
At Lifetime Training we have spent two decades providing training expertise and every year over 20,000 learners train with us, across a wide range of exciting food and drink qualifications.
By doing an apprenticeship in the food and drink industry, you will learn specific skills and knowledge, so you can excel in your Hospitality job. You will provide a fantastic service to your customers and learn essentials skills in food and drink, which can enable you to progress into management.
Click here to view apprenticeships in the food & drink industry https://www.lifetimetraining.co.uk/hospitality/
Click here to view apprenticeships in management https://www.lifetimetraining.co.uk/employers/business-and-management/
An operations/departmental manager is someone who manages teams and/or projects, and achieving
operational or departmental goals and objectives, as part of the delivery of the organisations strategy.
A team leader/supervisor is a first line management role, with operational/project responsibilities or
responsibility for managing a team to deliver a clearly defined outcome.